Welcome to the weekly build challenge!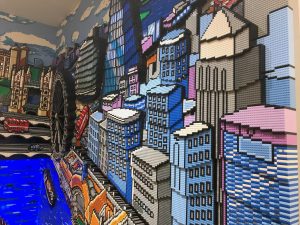 Families are encouraged to get creative with Lego blocks, figurines or other craft materials to solve a challenge.
We will be posting a challenge each week.
If you'd like to show off your creation on the Santa Clarita Library kids blog and social media please submit the following information in an email to Mr. David at djanning@santa-clarita.com.
First name of creator
Picture of creation (for anonymity please do not include a picture with the creator in it)
One to two sentences describing your creation.
Weekly Build Challenge 4/28 – Tallest Tower Challenge
Have you ever wondered how skyscrapers are made? Tall building like skyscrapers require years of planning and lots of different type of workers to make. This challenge is all about understanding some of the issues in building tall things!
The challenge this week is to build the tallest tower possible. You can use legos, blocks or craft supplies, but you cannot glue the tower to the ground. Think of creative ways to secure the tower from wobbling and how can you add blocks once its taller than you!
TRADUCCIÓN AL  DEL ESPAÑOL SEMANAL DE CONSTRUCCIÓN: ¡LA TORRE MÁS ALTA!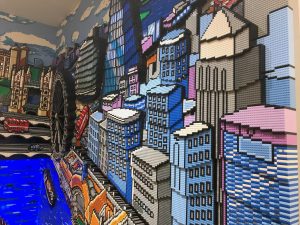 ¡Bienvenidos al Reto de Construcción Semanal!
A las familias se les invita a ser creativas con los bloques, Lego, figuras y otros materiales para realizar el reto.
Nosotros vamos a estar publicando un reto cada semana.
Si tú deseas mostrar tu creación envíala al blog de los niños de la Biblioteca de Santa Clarita o a los medios sociales y envía la siguiente información al Sr, David a esta dirección: djanning@santa-clarita.com
Nombre del Creador
Fotografía de la creación (por anonimato no incluya la fotografía del creador)
Una o dos oraciones describiendo tu creación.
Reto Semanal de Construcción del 28/4- ¡Reto de la Torre más Alta¡
¿Alguna vez te has preguntado cómo hacen los rascacielos?
Los edificios altos como los rascacielos requieren de muchos años de planeación y de diferentes tipos de trabajadores para hacerlos. Este reto es para tratar de entender algunos de los problemas y retos que suceden cuando se construyen edificios altos.
El desafío de esta semana es construir la torre más alta posible. Puedes usar Legos, bloques u otro tipo de material, pero no debes pegar la torre en el suelo. ¡Piensa en formas creativas para que tu torre no se tambalee y como agregar bloques una vez que esté más alta que tú!
---
SHARE THIS: