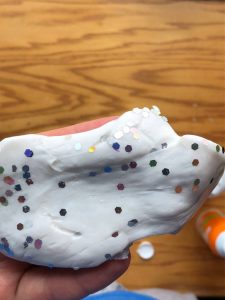 Slime is the perfect mix of fun and science! There are so many different types of slime and millions of ways to make it.
Today we have a simple 3 ingredient slime with lots of add in extras!
NOTE: ingredient amounts can vary, a little bit of experimenting will be needed.
Tips:
Stiffer slime that holds shape but cannot stretch as far = more contact solution
Looser slime that stretches but doesn't hold its shape = less contact solution
Simple Slime Ingredients
2 oz (about half a bottle) of elmers glue
1/2 tsp of baking soda
1-3 tbsp of contact solution (must contain boric acid and sodium borate, it will be listed in the ingredients)
Optional ingredients:
Glitter
food coloring
hand lotion
shaving cream
essential oils
Step by step:
1. Add glue to clean bowl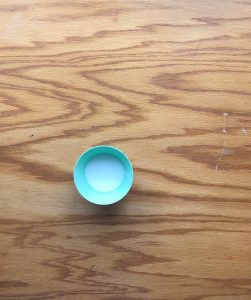 2. Add baking soda to glue and mix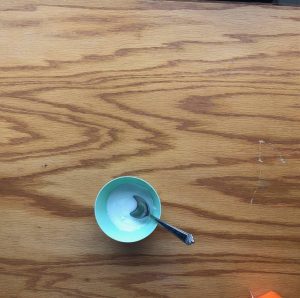 3. Add glitter and food coloring (I forgot and it made it harder to mix later!)
4. Add 1 tablespoon of contact solution at a time slowly, mix between pours.
5. Add in your remaining optional ingredients one at a time
Once you have it ready, feel free to take it out of the bowl and enjoy!
How does it work?
Slime is made of polymers found in the glue. They look like long strands of spaghetti that slide easily against each other. Contact solution mixed with the baking soda creates a Borate ion. The borate ion links polymer strands together making it so they cannot move around as easily. This is why you need to slowly add the contact solution, you add too much borax and all of the polymer strands will stick together and not move at all!
For more information on the science check out the American Chemistry Societies website!
And keep checking in on the Santa Clarita Library website, blog and other social media for more updates on services and lots of activities for the whole family.
---
Ciencia de Slime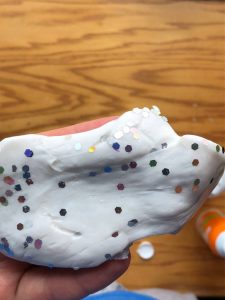 Slime es la mezcla perfecta de ciencia y diversión. Hay muchos diferentes tipos de slime y miles de maneras de hacerla.
¡Ahora vamos a hacer simple slime con 3 ingredientes y le vamos a agregar elementos adicionales!
NOTA: las cantidades de ingredientes pueden variar, se necesitará un poco de experimentación.
Consejos:
Slime más rígida que mantiene la forma, pero no puede estirarse tanto = más solución para lentes de contacto o solución salina
Slime más suelta que se estira, pero no mantiene su forma = menos solución para lentes de contacto
Ingredientes para simple slime
2 oz (aproximadamente media botella) de pegamento
1/2 cucharadita de bicarbonato de sodio
1-3 cucharadas de solución de lentes de contacto (debe contener ácido bórico y borato de sodio, se enumerará en los ingredientes)
Ingredientes opcionales:
Brillantina
Colorante para alimentos
loción de manos
crema de afeitar
aceites esenciales
Paso a paso
Agregue pegamento en un recipiente limpio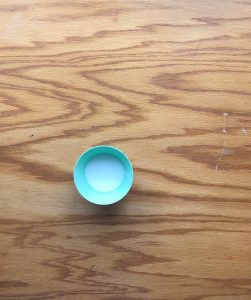 Agregue bicarbonato de sodio al pegamento y mezcle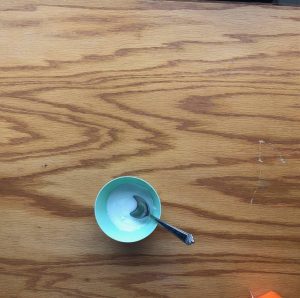 Agregue brillo o brillantina y color para alimentos (! yo me olvide y más tarde que lo agregue fue más duro!)
Agregue una cucharada de solución de lentes de contacto a la vez lentamente, mezcle y vierta.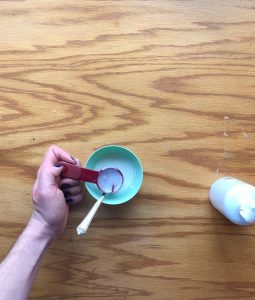 Agregue los ingredientes opcionales uno a la vez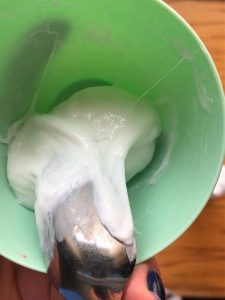 Una vez que lo tenga listo, ¡no dude en sacarlo del recipiente y disfrutar!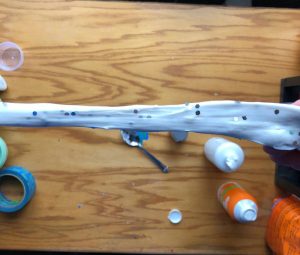 ¿Como funciona?
El slime está hecho de polímeros que se encuentran en el pegamento. Parecen largos mechones de espagueti que se deslizan fácilmente uno contra el otro. La solución de lentes de contacto mezclada con el bicarbonato de sodio crea un (químico) ion borato. Este une las hebras de polímero para que no puedan moverse con tanta facilidad. ¡Es por eso que necesita agregar lentamente la solución de contacto, si usted agrega demasiado bórax y todas las hebras de polímero se pegarán y no se moverán en absoluto!
Para obtener más información sobre la ciencia, visite el sitio web de American Chemistry Societies.
Y siga visitando el sitio web, el blog de la Biblioteca Santa Clarita y las redes sociales para obtener más actualizaciones sobre los servicios y muchas actividades para toda la familia.
---
SHARE THIS: