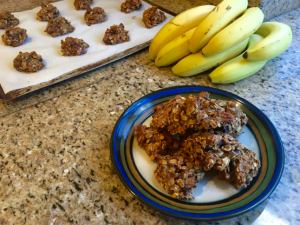 All you need to make these delicious and wholesome cookies are ripe bananas and oats–that's it! If you have more ingredients you can really personalize these to match your tastes and make them even more nutritious. This recipe is versatile and forgiving and it's fun and easy to make with your little ones. Eat them for breakfast, snack time, dessert, or anytime you need a little pick-me-up!
Ingredients
3 ripe *bananas, mashed
2 cups rolled oats
(*if you don't have enough bananas just use less oats, not all bananas are the same size, this recipe works even when the measurements aren't exact, just make sure you have enough banana to coat and bind the oats together)
Optional Add-in Ideas
A pinch of salt (to enhance the banana's sweetness)
1 tsp vanilla extract
1 cup chopped dates/prunes/raisins/cranberries, etc.
½ cup chocolate chips/chocolate chunks
½ cup chopped pecans/walnuts/flaked coconut/chopped nuts of any kind
¼ cup peanut butter/almond butter/nut or seed butter of any kind
1-2 TBSP seeds of any kind/chia/flax/sunflower/pumpkin, etc.
1-2 TBSP cocoa powder to make the batter chocolatey
½ tsp – 1 tsp cinnamon/pumpkin pie spice, etc.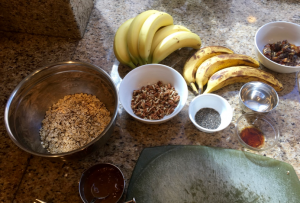 Directions
Preheat your oven to 350 F
Line your baking sheets with parchment paper/foil/baking mat OR grease them with cooking spray or oil
Peel and mash your bananas, add them to a bowl
Add your oats
Add any add-ins you would like, you can use these measurement as a guide, but feel free to use more or less of any ingredient
Stir to combine all your ingredients
Use 2 large spoons to scoop out cookies, you can leave them in mounds like mine or flatten them down with the back of your spoon into discs
Bake 20-30 minutes until golden brown
Cool before eating & enjoy!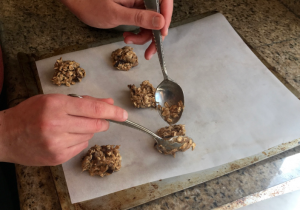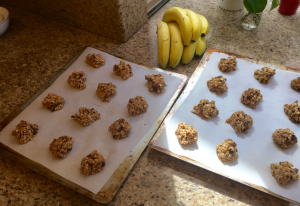 This recipe makes approximately 24 cookies. Once they have cooled store them in an airtight container for 3-5 days or freeze them and reheat them as desired.
Click here to watch the video tutorial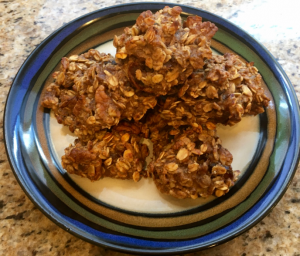 For more recipes check out our free eBooks on Overdrive
---
SHARE THIS: