Welcome to the weekly build challenge!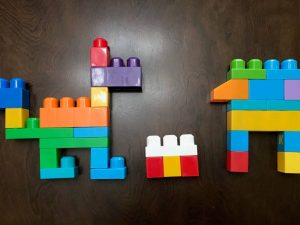 Families are encouraged to get creative with Lego blocks, figurines or other craft materials to solve a challenge.
We will be posting a challenge each week.
If you'd like to show off your creation on the Santa Clarita Library kids blog and social media please submit the following information in an email to Mr. David at djanning@santa-clarita.com.
First name of creator
Picture of creation (for anonymity please do not include a picture with the creator in it)
One to two sentences describing your creation.
Weekly Build Challenge 4/14 – 2D Art
You've probably heard the expression 3D or three dimensional. That means the object has a height, length and depth (or width). A computer, orange, a cat for example are all three dimensional because you can measure how tall they are, how wide they are and how long they are.
2D or two dimensional has only a height and length. Anything you draw on a piece of paper or see on a screen is 2D. 3D glasses give the illusion that 2D objects are 3D by making it seem like they have depth.
This weeks challenge, use blocks or legos to make a 2D creation. To do this, lie the blocks on the table and do not build them off the tabletop, similar to the example above. It's harder than it looks!
---
Desafío de Construcción Semanal: Arte Bidimensional (2D)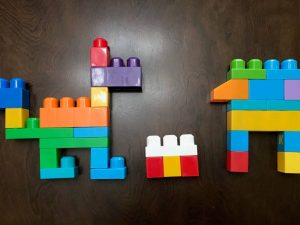 ¡Bienvenido al desafío de construcción semanal!
Se está motivando a las familias a ser creativas con bloques de Legos, figuras u otros materiales manuales para resolver desafíos.
Estaremos publicando un desafío cada semana.
Si le gustaría mostrar su creación puede hacerlo en el blog para niños y en las redes sociales de la Biblioteca Santa Clarita, enviando un correo electrónico a la siguiente dirección al Sr. David: djanning@santa-clarita.com.
Nombre del creador
Imagen o foto de la creación (para que sea Anónimo, no incluya al creador en la foto)
Una o dos oraciones que describen lo que ha creado.
Desafío de construcción semanal 4/14 – Arte Bidimensional (2D)
Probablemente hayas escuchado la expresión 3D o tridimensional. Eso significa que el objeto tiene una altura, longitud y profundidad (ancho). Una computadora, una naranja, un gato, por ejemplo, son tridimensionales porque puedes medir qué tan altos son, qué tan anchos son y qué tan largos son.
2D o bidimensional tiene solo una altura y longitud. Todo lo que dibuje en una pagina de papel o vea en una pantalla es de 2 dimensiones (2 D). Lentes tridimensionales dan la ilusión de que objetos bidimensionales son objetos tridimensionales al hacer que parezca que tienen profundidad.
El desafío de esta semana es usar bloques o legos para crear algo bidimensional (2 D). Para hacer esto, coloque los bloques sobre la mesa y no los construya fuera de la mesa, como en el ejemplo anterior. ¡Es más difícil de lo que parece!
---
SHARE THIS: