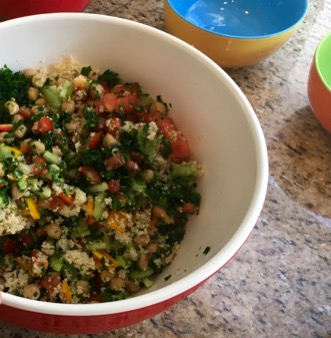 This Tabouli-inspired recipe makes a refreshing and delicious salad. The great thing is that you can modify the recipe to fit the ingredients you have at home. Make it with your little ones and enjoy it on a warm day.
Watch the video tutorial here:
Tabouli or Tabbouleh, comes from Lebanon and is traditionally made with finely chopped fresh parsley, mint, tomatoes, onions, and bulgur and is dressed with lemon and olive oil. Tabouli tends to have more herbs than grains.
The salad recipe I will be making starts with a base of grains and herby greens, any vegetables you have on hand, and is topped with a lemon dressing. If you don't have grains, you can turn it into a bean salad or a pasta salad or just make it into an herby vegetable salad. Use the ingredients you have available to you, the measurements are just an approximation, feel free to use more or less of any ingredient depending on your preferences.
Ingredients
For the salad:
-1-2 cups finely chopped fresh greens (any mix of: parsley, mint, cilantro, green onion, spinach, kale, arugula, lettuce, etc.)
-2-3 cups cooked grains (bulgur, couscous, brown rice, quinoa, pasta, etc.)
-1-2 cups finely chopped vegetables (any mix of: tomatoes, cucumbers, celery, bell peppers, onions, zucchini, etc.)
optional
-1-2 cups of beans (any kind you like, drain and rinse if using canned beans)
-2-4 TBSP olives, capers, artichoke hearts, etc. would go great with this salad
For the dressing:
-juice of one lemon, approximately 2-4 TBSP depending on the lemon (lime juice or any vinegar would work as well)
-olive oil, equal to the amount of lemon juice you use (or any oil you prefer)
-1/4 tsp salt
-1/4 tsp pepper
optional
-1/2 tsp garlic powder
-1/2 tsp dried herbs (mint, parsley, dill, etc.)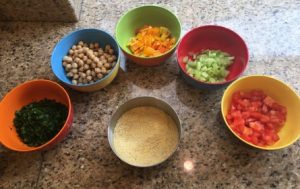 Directions
If you are using grains, cook them according to their package instructions
Finely chop your greens and vegetables by hand or pulse them in a food processor and add them to a large bowl, add any optional ingredients you are using
Mix your salad dressing in a separate container, salt and pepper to taste
*I like my dressing really lemony, if you find the flavor too strong use a little less or add a little more oil
Once your grains have cooked and cooled add them to your large bowl
Add the dressing and stir it all together
Enjoy it right away or chill it in the fridge first to let the flavors meld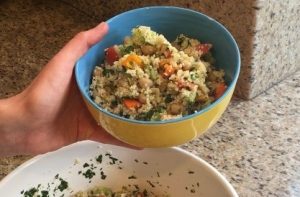 For more recipes check out our free eBooks on Overdrive
Looking for more fun activities to do from home? Join our Spring Reading Program — It's free! Track your reading, play games, and complete cool missions!
***********
Receta de Ensalada de Granos y Hierbas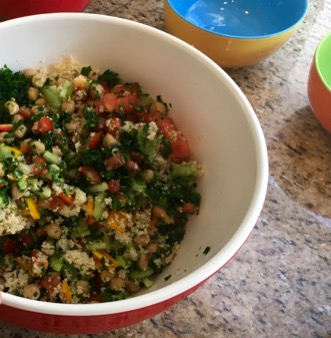 Esta receta de ensalada fresca y deliciosa es inspirada en Tabouli (comida árabe). Lo mejor es que usted puede modificarla para ajustarla a los ingredientes que tiene en casa. Hagala con sus pequeños y disfrútela en un día cálido.
Mire el video tutorial aquí:
Tabouli o Tabbouleh, proviene del Líbano y se elabora tradicionalmente con perejil fresco finamente picado, menta, tomate, cebolla y bulgur (ingrediente de trigo), y se sazona con limón y aceite de oliva. Tabouli tiende a tener más hierbas que granos.
La receta de ensalada que la instructora prepara comienza con una base de granos, hierbas verdes, cualquier verdura que tenga a mano, y está cubierta con un aderezo de limón. Si usted no tiene granos, puede convertirla en ensalada de frijoles o ensalada de pasta o simplemente hacer una ensalada de vegetales hierbas. Use los ingredientes que tiene disponibles, las medidas son solo una aproximación, no dude en usar más o menos cualquier ingrediente según sus preferencias.
Ingredientes
Para la ensalada
-1-2 tazas de verduras frescas finamente picadas (cualquier mezcla de: perejil, menta, cilantro, cebolla verde, espinacas, col rizada, rúcula, lechuga, etc.)
-2-3 tazas de granos cocidos (bulgur, cuscús, arroz integral, quinua, pasta, etc.)
-1-2 tazas de vegetales finamente picados (cualquier mezcla de: tomates, pepinos, apio, chiles pimiento, cebollas, calabacín, etc.)
Opcional
-1-2 tazas de frijoles (del tipo que desee, drene y enjuague si usa frijoles enlatados)
-2-4 cucharadas de aceitunas, alcaparras, corazones de alcachofa, etc. irían muy bien con esta ensalada
Para el aderezo:
-jugo de un limón, aproximadamente 2-4 cucharadas dependiendo del limón (el jugo de lima o cualquier vinagre también funcionaría)
-aceite de oliva, igual a la cantidad de jugo de limón que usa (o cualquier aceite que prefiera)
-1/4 cucharadita de sal
-1/4 cucharadita de pimienta
Opcional
-1/2 cucharadita de ajo en polvo
-1/2 cucharaditas de hierbas secas (menta, perejil, eneldo, etc.)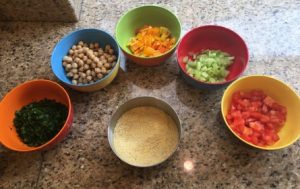 Direcciones
Si usa granos, cocínelos de acuerdo con las instrucciones del paquete.
Corte finamente a mano sus verduras y vegetales o póngalas en un procesador de alimentos y agréguelas a un recipiente grande, agregue los ingredientes opcionales que esté usando
Mezcle su aderezo para ensalada en un recipiente separado, sal y pimienta al gusto
*A la instructora le gusta aderezo de limón puro, pero si usted encuentra el sabor demasiado fuerte, use menos Limón o agregue un poco más de aceite
Una vez que los granos se hayan cocinado y enfriado, agréguelos a recipiente grande
Agregue el aderezo y revuelva todo junto
Disfrútelo de inmediato o enfríelo en la nevera primero para que los sabores se fusionen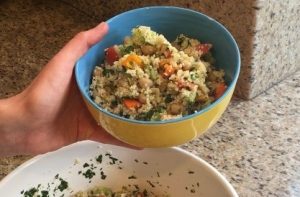 Para obtener más recetas, consulte nuestros libros electrónicos gratuitos en Overdrive
¿Está buscando más actividades divertidas para hacer desde casa? Únase a nuestro Programa de Lectura de Primavera: ¡es gratis! ¡registre su lectura, participe en juegos y complete misiones geniales!
---
SHARE THIS: