Welcome to the weekly build challenge!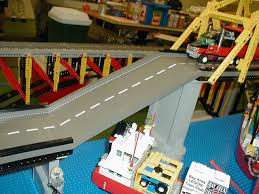 Families are encouraged to get creative with Lego blocks, figurines or other craft materials to solve a challenge.
We will be posting a challenge each week.
If you'd like to show off your creation on the Santa Clarita Library kids blog and social media please submit the following information in an email to Mr. David at djanning@santa-clarita.com.
First name of creator
Picture of creation (for anonymity please do not include a picture with the creator in it)
One to two sentences describing your creation.
Weekly Build Challenge 4/21 – Bridge Strength Challenge
Using either a couple of thick books or chairs, create a bridge out of Legos, blocks or other craft supplies to span the gap. Here is the challenge:
The bridge must be wide enough for a small car or toy to cross
How much weight can the bridge hold? Use coins, blocks or other heavy objects on the middle of the bridge to see how much it can hold before it collapses. If you have a scale, measure the amount and see if you can improve it.
---
SHARE THIS: