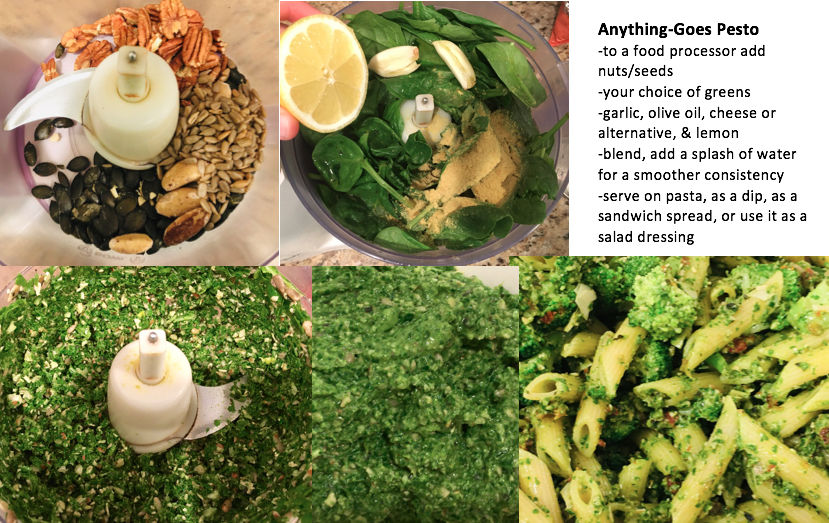 This is an anything-goes pesto recipe! If it's green toss it in and blend it up. Learn how to make a delicious green sauce or spread to dress up your meal using common ingredients. What better way to get your daily serving of greens than with a homemade pesto?
Pesto is usually prepared with fresh basil, garlic, pine nuts, parmesan cheese, and olive oil. I love pesto, but it can be expensive. One day I decided to make my own using the excess arugula and spinach I had at home. I didn't have those pricey pine nuts so I just substituted them for some nuts and seeds I had on hand and it turned out delicious. This anything-goes pesto is a staple in my house. It's a great recipe to reduce food waste–if you have greens that need to be used up just blitz them into a vibrant pesto and enjoy them in a new form.
This recipe is incredibly versatile, alter it as needed to suit your ingredients and preferences–leave ingredients out or add new ingredients in to make it your own.
It starts with a base of greens
Add nuts and seeds if you want
Add nutritional yeast, parmesan cheese, or other hard cheese substitutes that you like (if you have parmesan packets leftover from pizza night toss them in)–if you don't want cheese just leave it out of the recipe
Add oil if you like, if you want to keep it oil-free just use water, but oil does make the flavor richer
Add a splash of lemon to brighten the flavor
Add fresh garlic or use garlic powder
Add salt & pepper and any additional seasonings you like
Ingredients
2 cups packed greens (any combination of spinach, kale, arugula, basil, parsley, cilantro, etc. will work great, but spinach and kale have the mildest flavors)
½ cup nuts or seeds (any combination of nuts and seeds: almonds, pecans, pistachios, pine nuts, brazil nuts, walnuts, sunflower seeds, pumpkin seeds, etc.)
2 TBSP hard cheese or cheese alternative (parmesan, romano, nutritional yeast, etc.)
1-2 garlic cloves or ½ tsp garlic powder
1-2 TBSP lemon juice
2-4 TBSP olive oil start with 2 TBSP and add more if you desire
2-4 TBSP water add a few splashes of water to make the consistency smoother without using too much oil
salt and pepper to taste
*add any other seasonings you like
Instructions
In a food processor or high-speed blender add all the ingredients (except the water) and blend in intervals
Stop and scrape down the sides of the machine as needed and add splashes of water until you reach the desired consistency
Taste the pesto and adjust the seasoning if needed
Serve over pasta, as a dip, or sandwich spread, or any way you like!
You can freeze any leftover pesto in an ice cube tray to save for a future meal.
---
SHARE THIS: