Welcome to the weekly build challenge!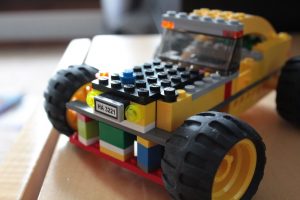 Families are encouraged to get creative with Lego blocks, figurines or other craft materials to solve a challenge.
We will be posting a challenge each week.
What is friction?
Legos and hot wheels are great for racing along the floor, but why do cars travel further on tile than on carpet? It's all because of friction!
Friction is the force when two objects rub against each other. What exactly is happening? Use your hands to test it out! Rub your hands together really fast, notice anything? You should feel resistance and heat. Friction is energy lost when two things rub against each other, like your hands or a car. The energy lost is movement and its turned into heat.
A Lego Car when rolling along the floor is losing energy to friction. There are however, things you can do to minimize friction, like what material the wheels or ground is, weight or how hard you push it at the start. You cannot completely get rid of friction, and you wouldn't want to. If you did, your car might roll away and never stop!
Weekly Build Challenge 5/12 – Friction Challenge
Your challenge is to test a car on a ramp. You can make a ramp out of a piece of wood, a car track, or a piece of furniture.
Release your car at the top of the ramp, measure how far it rolls down the ramp onto the floor. Do this a few times to figure out how far it normally goes. Once you've done that, experiment with changing things to make it go further. See how far you can get the car to travel!
Here are some hints:
thin wheels that touch the ground less experience less friction
experiment with weights on your car, weights can slow your car down or give it extra speed at the start of the ramp.
¡Bienvenidos al Reto de Construcción Semanal!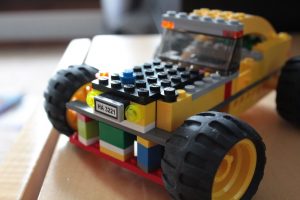 A las familias se les invita a ser creativas con los bloques, Lego, figuras y otros materiales para realizar el reto.
Nosotros vamos a estar publicando un reto cada semana. 
Fricción es la fuerza que dos objetos ejercen cuando frotan uno con otro.  ¿Qué es lo que está pasando exactamente?  ¡Usa tus manos para probar! Frota tus manos una con la otra rápidamente, ¿notas algo?
Tú deberías sentir resistencia y calor. La fricción es energía perdida
cuando dos objetos se frotan unos a otros como tus manos o carros. La energía perdida es movimiento y se convierte en calor.
Un carro de lego cuando viaja por el suelo a cierta velocidad, va soltando energía a fricción.
Hay sin embargo, cosas que puedes hacer para disminuir la fricción, como de que materiales están hechos los pisos o las llantas, peso o con que fuerza tus avientas el carro al inicio. No puedes deshacerte por completo de la fricción y no lo querrías hacer. Si tú lo hicieras, tu carro seguiría su camino y nunca pararía!
Reto Semanal de Construcción 5/12  – Reto de Fricción
Tu reto es poner a prueba un carro en una rampa. Tú puedes hacer una rampa hecha de piezas de madera, una pista de carro, o un mueble.
Suelta tu carro en la cima de la rampa, mide que tan rápido baja la rampa  y llega al suelo. Has esto varias veces para saber a qué velocidad rueda normalmente. Una vez que hayas hecho eso varias veces, experimenta cambiando cosas para hacerlo viajar más lejos. ¡Ve que tan lejos lo puedes hacer viajar!
Aquí hay algunos consejos:
Las llantas que tocan menos el suelo experimentan menos fricción
Experimenta agregándole peso a tu carro, el peso puede hacer más lento al carro o dale más velocidad al iniciar la rampa
---
SHARE THIS: