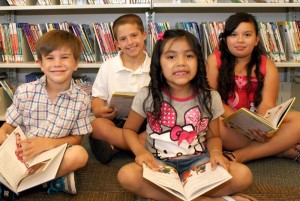 This specialized collection is designed to meet the needs of teachers and parents who are looking for materials that will enrich the educational experiences of their students or children in Kindergarten through 12th grade.  Resources for students and for the adults who teach them are shelved together for easy browsing.
Come browse the collection, located in the Children's Department of the Valencia Library. To search the catalog from home, choose More Search Options.  Choose Parent Teacher Resource under Collections.
Highlights of the Parent-Teacher Enrichment Resource Collection include:
High-interest, enjoyable non-fiction materials designed to extend learning in subject areas and stimulate students' interest in new directions

Social Studies and Science DVDs

Novel Study kits which include a novel and a Teacher's Lesson Plan booklet

Subject-area and grade-level scope and sequence notebooks for parents

Student workbooks for which Santa Clarita Public Library has received the publisher's permission for patrons to copy pages
We invite you to submit requests for purchasing materials for the Parent-Teacher Enrichment Resource Collection.  (link to request a purchase)
In addition to the materials in this special collection, the annual Science in September  series highlights the library's commitment to providing depth and breadth as well as an appealing presentation of subject matter. The Friends of Santa Clarita Public Library generously sponsors the annual Science in September  series of classes for homeschooled students in 5th-12th grades.
---
SHARE THIS: