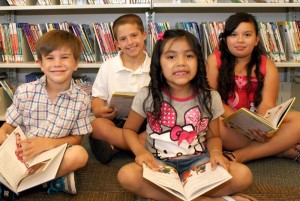 El año escolar está por terminar y pronto nuestros niños estarán en vacaciones de verano. Muchos padres de familia están preocupados sobre  qué actividades realizaran con sus hijos. Estos son los comentarios que se oyen a menudo en el departamento de niños de la biblioteca: "Tengo que pensar en que voy a entretener a mi niño ahora que estará de vacaciones"  "En las vacaciones voy a llevar a mis niños más a menudo al parque" "Yo no quiero que mi hijo permanezca mucho tiempo en internet o jugando video juegos," etc…
Durante el verano, los estudiantes pierden un promedio de dos meses de aprendizaje en su grado. Esta pérdida de aprendizaje, genera un retraso acumulativo en el aprendizaje de  los estudiantes que les afecta para sus logros académicos en los niveles superiores.
Una de las maneras de mantener a sus hijos entretenidos y aprendiendo es inscribiéndolos en programas educativos. La Biblioteca Pública de la Ciudad de Santa Clarita ofrece el Programa de Lectura de Verano que incluye desafíos de lectura para niños de todas las edades e incluso adultos. El programa inicia el 10 de Junio y los padres pueden contribuir a mantener los niveles de aprendizaje y lectura inscribiendo a su hijo y haciendo un seguimiento de los libros que lee en santaclaritalibrary.com. Si el niño lee 5 libros, él ha logrado la meta o desafio de lectura y debe venir a la biblioteca a recoger un libro gratis o un premio que lo estimulará a seguir leyendo.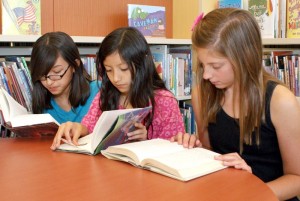 KEEP THE READING LEVELS OF YOUR KIDS
The school year is about to end and soon our children will be on summer vacation. Many parents are concerned about what activities they will do with their children. These are the comments that are often heard in the children's department of the library: " I have to think about how I am going to entertain my child now that he will be off from school," "During the summer vacation I am going to take my children more often to the park," "I do not want my son to spend a lot of time on the internet or playing video games," etc …
During the summer, the students lose an average of two months of learning in their grade. This learning loss generates a cumulative delay in the learning of the students that affects them in their academic achievements at the high levels.
One way to keep your children entertained and learning is by registering them in educational programs. The Public Library of the City of Santa Clarita offers the Summer Reading Program that includes reading challenges for children of all ages and even adults. This program starts on June 10 and parents can participate and help maintain learning and reading levels by registering their kids and keeping track of the books they read at santa claritalibrary.com. If a child achieves the challenge of reading 5 books, he or she should come to the library to pick a free book or prize that encourages him or her to continue reading.
---
SHARE THIS: