Dog Man Hat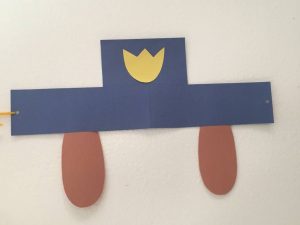 Supplies
long blue strip
small blue square
2 brown ears
yellow badge
yarn
glue stick, liquid glue, or tape
Instructions
Glue or tape the small blue square to the center of the long blue strip
Glue the yellow badge onto the small blue square
Attach one ear to either side of the blue square
Thread the yarn through the holes at the end of the long blue strip
Try the hat on and have an adult help you tie it in place
Now you are ready to play and solve crimes as the one and only Dog Man!
If you want to share your creation send us a photo: libraryinfo@santa-clarita.com
---
Suministros
franja azul larga
pequeño cuadrado azul
2 orejas marrones
placa amarilla
hilo
barra de pegamento, pegamento líquido
o cinta
Instrucciones
Pegue con cinta adhesiva o pegamento el pequeño cuadrado azul al centro de la franja azul larga
Pegue la insignia amarilla en el pequeño cuadrado azul
Coloque una oreja a cada lado
Pase el hilo a través de los agujeros al final de la tira azul larga
Pruébate el sombrero y haz que un adulto te ayude a atarlo en su lugar
¡Ahora estás listo para jugar y resolver crímenes como el único Hombre Perro!
Si quieres compartir tu creación envíanos una foto: libraryinfo@santa-clarita.com
---
Petey the Cat Puppet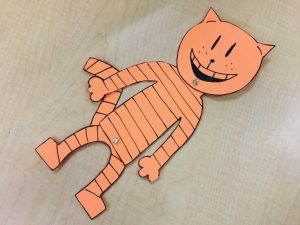 Supplies
orange paper template
2 metal fasteners
scissors
markers or crayons
Instructions
Decorate Petey however you like using markers or crayons
Next, cut out all the pieces of your Petey puppet
Line up the neck and head holes and push a metal fastener carefully through, open the feet of the fastener to keep it in place
Line up the bottom holes, with Petey's body in front, his feet in the middle and his tail in the back
Use the other fastener to attach these pieces
Your Petey Puppet is now ready to play, have fun making Petey move around!
If you want to share your creation send us a photo: libraryinfo@santa-clarita.com
---
Suministros
plantilla de papel naranja
2 sujetadores metálicos
tijeras
marcadores o crayones
Instrucciones
Decora a Petey como quieras usando marcadores o crayones
A continuación, corte todas las piezas de su títere de Petey
Alinee los agujeros del cuello y la cabeza y empuje un sujetador de metal con cuidado a través, abra los pies del sujetador para mantenerlo en su lugar
Alinee los agujeros inferiores, con el cuerpo de Petey al frente, los pies en el medio y la cola en la parte posterior.
Utilice el otro sujetador para sujetar estas piezas.
Tu Petey Puppet ya está listo para jugar, ¡diviértete haciendo que Petey se mueva!
Si quieres compartir tu creación envíanos una foto: libraryinfo@santa-clarita.com
---
SHARE THIS: