Give Me A Break
Is your child getting more screen time than they used to? Are they struggling to get work done on long stretches of online homework or getting wiggly during your third online meeting of the day? Give yourself and your child a break, a brain break. This simple craft will encourage your child to take brain breaks and help you come up with fun ways to keep their body moving.
Create a cup full of options to pick from, each draw can be a surprise by turning the sticks upside down, or you can face them up for children who need to see their options up front. When it's time for a break, have your child pick 2-3 of these activities from the cup. Add in special surprises tailored to your child and their preferences to make it a fun hunt for the favorite.
With a little creativity this can also help to build a unique sensory walk, with each pull determining the next move on the walk.
What you need: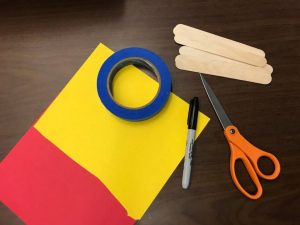 Step 1: Trace shapes of your choice using household items or stencils. Make sure the shape is big enough to write an activity on. This is a great craft to use up scrap paper.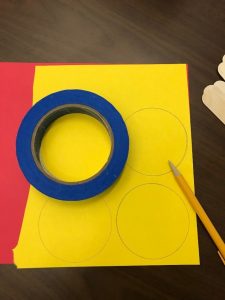 Step 2: Cut shapes out and label them with fun physical actives. Some recommendations are included below.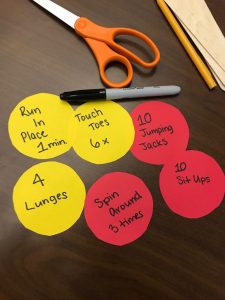 Step 3:Tape or glue the shapes to craft sticks, straws or pencils. Ensure that your stick reaches the top of the shape to give it support if upside down.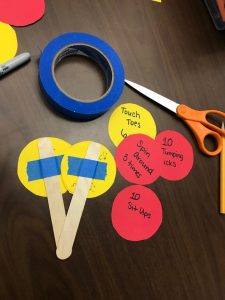 Step 4: Put all the finished sticks in a cup or can and keep it handy for when attention is short and you need a break.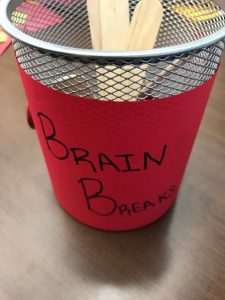 ---
Deme una actividad de descanso y manualidad
Deme un descanso
¿Está su hijo teniendo más tiempo frente a la pantalla de lo que solía? ¿Están ellos luchando para hacer largos tramos de tarea en línea o se menea mucho durante su tercera reunión del día en línea? Dese un descanso a usted y a su hijo, un descanso cerebral. Esta sencilla tarea animará a su hijo a tomar descansos cerebrales y lo ayudará a encontrar formas divertidas de mantener su cuerpo en movimiento.
Cree una taza llena de opciones para elegir, cada sorteo puede ser una sorpresa cambiando las opciones de los palos de arriba para abajo, o puede ponerlos de frente porque los niños necesitan ver las opciones por adelantado. Cuando sea hora de un descanso, haga que su hijo elija 2-3 de estas actividades de la taza. Agregue sorpresas especiales adaptadas a las preferencias de su hijo y  para que sea una búsqueda divertida de sus cosas favoritas.
Con un poco de creatividad, esto también le puede ayudar a construir una caminata sensorial única, sacando cada vez opciones para determinar el próximo movimiento en la caminata.
Que necesita: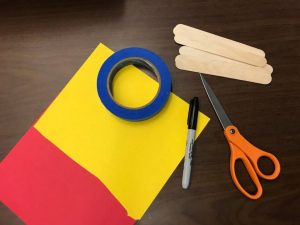 Paso 1: Trace formas de su preferencia usando artículos del hogar o plantillas. Asegúrese de que la forma sea lo suficientemente grande como para escribir una actividad. Esta es una manualidad para usar papel de desecho.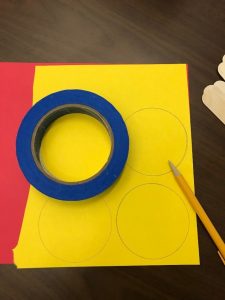 Paso 2: Recorte las formas y rotúlelas con actividades físicas divertidas. Algunas recomendaciones se incluyen a continuación.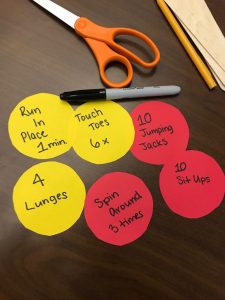 Paso 3: Pegue con cinta las formas a palitos, pajitas o lápices. Asegúrese de que su palo llegue a la parte superior de la forma para darle soporte si está al revés.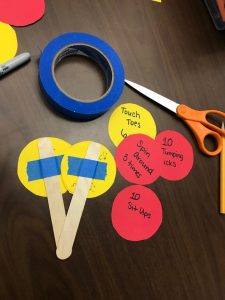 Paso 4: coloque todos los palos terminados en una taza o lata y manténgalo a mano para cuando la atención sea breve y necesite un descanso.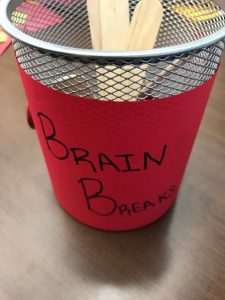 ---
SHARE THIS: