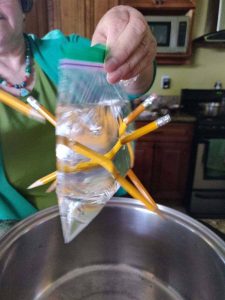 This is a super easy experiment with very exciting results, and best of all it's easy to do with kids!
Materials
Ziploc bag
Pencils (sharpened)
Water
Container
Instructions
Fill the bag with water and seal tightly
Get a container or pot to make sure you don't get wet
Start poking the pencils in the bag one by one

Make sure the pencils exit out the other side of the bag. No matter how many pencils you use, the bag should stay sealed!
Why does the bag not break or spill when it has been pierced with the pencil?
The water does not spill because the plastic of the bag is made of molecules that make the plastic very flexible. So, when the pencils pierce the bag, the bag remains firmly gripped around the pencils, creating a seal.
---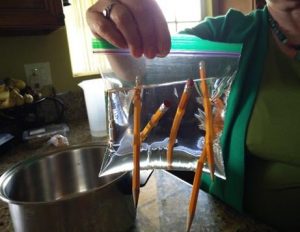 Este es un experimento muy fácil con resultados muy emocionantes, y lo mejor de todo es que es fácil de hacer con los niños.
Materiales
Bolsa hermética (Ziploc)
Lápices con punta
Agua
Recipiente
Instrucciones
Llenar la bolsa con agua y cerrarla muy bien
Conseguir un recipiente u olla para asegurarse de no mojar
Empieza a meter los lápices en la bolsa uno por uno
A. Asegúrate de que los lápices salgan por el otro lado de la bolsa. Esta permanecerá sellada no importa cuantos lápices use!
¿Porque la bolsa no se rompe o el agua no se derrama cuando ha sido perforada con el lápiz?
El agua no se derrama porque el plástico en la bolsa está hecho de moléculas que hacen que el plástico sea muy flexible. Entonces, cuando los lápices perforan la bolsa, la bolsa permanece firmemente sujeta alrededor de los lápices, creando un sello.
---
SHARE THIS: