Make the whole Baby Shark family and put on your own puppet theater musical!
Shark Character Puppets
Supplies:
color construction paper (if you don't have color paper you can use white paper and color your characters with markers/crayons/color pencils)
glue stick (tape or liquid glue will work)
something to make large and small circles (a compass or any cylindrical bottles/cups/jars you find at home can be used to trace circles, you can decide on their sizes, mine are approximately 3″ and 2″ in diameter)
scissors
pencil or pen
optional: Popsicle sticks (unsharpened pencils will work)
optional: googly eyes
optional: a shoebox to make a diorama
optional: white color pencil or crayon to draw teeth
optional: markers/crayons/color pencils to add details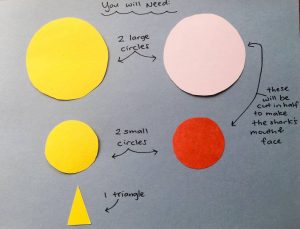 Instructions for Each Shark:
select a color for your shark
cut two large circles of the same size, one from white paper and one in your selected color
cut two small circles of the same size, one from red paper and one in your selected color
cut out a triangle in your chosen color
cut the white and red circles in half (you will only need a half circle of each color per shark)
layer the white half circle over the large color circle, glue it in place
take the small circle, in your selected color, and cut it in half (these will be the arm/pectoral fins) tuck one on each side of your shark head and glue in place
take the red half circle, this will be mouth, you can add zig-zag lines to make teeth or color in teeth with a white color pencil or crayon, you can also change the shape of the mouth to make a smile, it's up to you!
once the mouth is in place glue the googly eyes or make some out of white paper by cutting tiny circles with black marker dots in the center
now glue the triangle paper to the top of the shark, this will be the to top/dorsal fin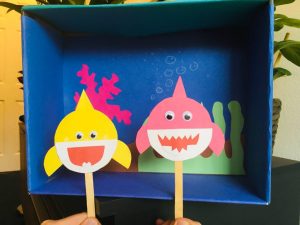 Instructions for the Little Fish:
cut a small circle
cut two triangles of the same size
tuck one triangle at the side of the circle to make a tail
cut the other triangle in half, tuck one at the top of the circle and one at the bottom to make the fins
decorate a face
optional, trace the outline of the completed fish to make a second fish cutout, decorate this one with a different facial expression and attached it to the back of the first fish
don't forget to glue the Popsicle stick in between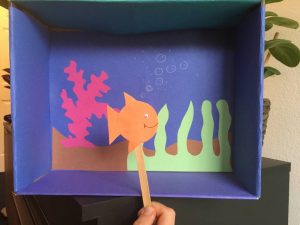 Instructions for the Ocean Scene:
use a sheet of blue construction paper
cut out anything you want to see in your ocean scene: seaweed, coral, sand, treasure chests, anchors, mermaids, sea creatures, etc.
glue all your pieces onto the blue paper
optional, glue the blue paper to the bottom of a shoe box and wrap the edges to make an ocean diorama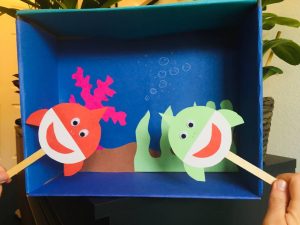 Now it's time to get musical and put on your own puppet show! Have lots of fun and try singing different variations of Baby Shark!!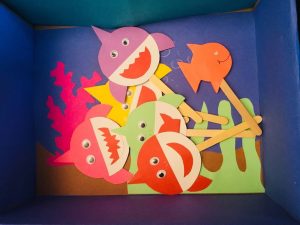 *if you make a diorama shoebox you can store your sharks and fish inside the box when you're done playing with them 🙂
---
SHARE THIS: